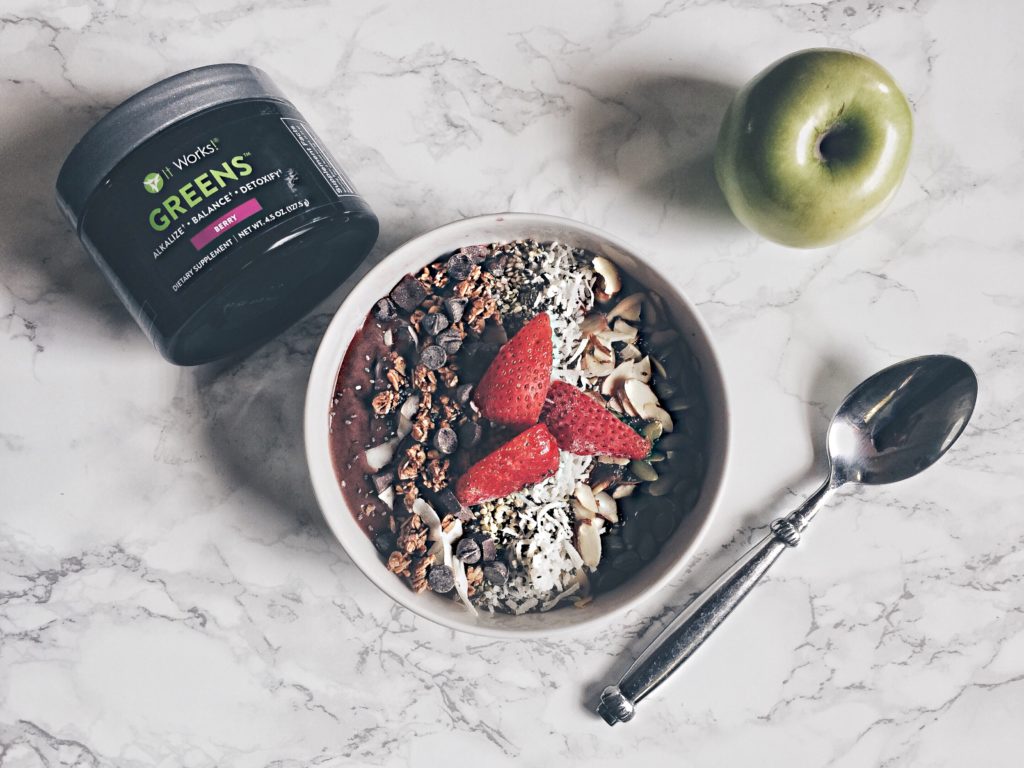 I don't know many people who don't enjoy a good smoothie bowl. It's a fairly new trend in the sense that my smoothie bowls are the first many of my friends and family have ever had. They make great breakfast alternatives for those trying to break away from the traditional oatmeal or yogurt parfait. They are also a cool and refreshing start for those hot summer mornings to come. This is the first recipe in a series of smoothie bowl recipes I will be sharing with you beautiful people. I hope you enjoy!
The Main Ingredients
1 packet frozen acai puree
1 cup frozen mangoes
2 cups frozen strawberries
2 frozen bananas
1 cup fresh spinach
1 to 2 cups of water or plant based milk
4 scoops of It Works! Greens
The Toppings
Like with all recipes that include toppings, these are completely interchangeable based off of what you like or what you have on hand. For each of the recipes I share, I will give suggested toppings but you can add whatever suites your fancy. I usually add about a tablespoon of each topping as I usually add quite a few for variety.
The toppings I included mostly focused on protein and healthy fats (pretty typical for me) so I included a good amount of nuts and seeds as follows:
almond slices
chia seeds
pumpkin seeds
hemp seeds
shredded coconut
I also needed a little added sweetness
fresh strawberries
vegan chocolate chips
Love Crunch Granola – Dark Chocolate Macaroon (I'm currently madly in love with this granola. P.S. I know it already has chocolate chunks but a girl can treat herself, right?)
The How-To
You guys can probably guess this but put all the main ingredients in your high powered blender (I have a NutriBullet and it works pretty darn good). You'll only want to start out with 1 cup of water or plant milk as you want the final result to be pretty thick; I used water. You can add a little more as needed if you blender is struggling to get all that good stuff blended together.
Once everything is blended, add it to a bowl and try to make the surface smooth with a spoon. Now proceed to the fun part: decorate your smoothie with all the toppings. This is important as pretty food taste the best!
Next, snap a Instagram pic if your extra like me and hashtag it #chloevrecipes (This is not a thing yet so help a sista out and use the hashtag thing so that this non-thing can become a thing. It'll be fun.)
NOTE: This is meant to serve two people. It is roughly 560 calories each serving if you use the same toppings and use water as your liquid like I did. The approximate macros are below for those who care.
Fats: 26 grams
Carbs: 70 grams
Protein: 18 grams
Wishing you a delicious breakfast,